News for California Home Inspectors: California Energy Commission Adopts Solar PV Requirements for New Construction in 2020
by Nick Gromicko, CMI® and Kate Tarasenko
As goes California, so goes the rest of the country. The state has become the first in the nation to require the installation of solar photovoltaic (PV) panels on new single-family homes, starting in 2020. This effort will reduce energy use in new homes by half, compared to new homes without solar features.
The California Energy Commission voted unanimously on May 9, 2018, to add the solar requirement to the state's building regulations, the details of which will be rolled out sometime in 2019, although the process has already begun in earnest. This step helps address the increasingly urgent problem of climate change and global warming.
A headline in USA Today's May 17, 2018, edition blared: "Earth just had its 400th straight warmer-than-average month, thanks to global warming." The crisis is no longer up for debate, so leaders in the U.S. and around the world are scrambling to institute workable solutions.
According to the Energy Commission's press release, California Building Industry Association CEO and President Dan Dunmoyer said, "With this adoption, the California Energy Commission has struck a fair balance between reducing greenhouse gas emissions, while simultaneously limiting increased construction costs."
While the short-term cost of these PV installations may add around $40 per month to the average 30-year mortgage, the energy savings for lighting, heating and cooling is estimated to be around $80 per month. Couple that with the overall goal of reducing harmful carbon emissions and harnessing the renewable energy of the Sun, and it's a clear win for Californians.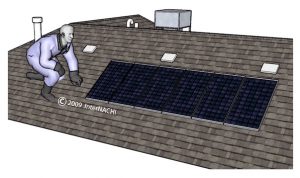 InterNACHI® spoke with Amber Beck, Public Information Officer for the California Energy Commission. We asked her how these new solar requirements and energy regulations will affect the building trades.
Ms. Beck said, "Builders, contractors and architects will need to coordinate throughout the process to build a new home that incorporates solar PV. A building inspector will need to verify that the solar PV installation meets all code requirements before signing the Certificate of Occupancy."
She continued, "Inspectors in areas where builders are already constructing new homes with solar systems should already be familiar with these types of inspections. As with every code cycle," she said, "the Energy Commission will create training materials and hold webinars."
Some excellent resources for inspectors and builders alike are the Commission's Online Resource Center, and the 2019 Building Energy Efficiency Standards, which provide periodic updates.
Ms. Beck also encourages people to read their quarterly Blueprint Newsletter. It's "aimed at giving guidance to building inspectors and builders. These tools will help home inspectors once the standards take effect in 2020," she said.
Professionals are also invited to join their lists to be notified of classes and new training materials.
InterNACHI's Education Department is already hard at work developing online and video courses related to inspecting solar PV panels. We are also coordinating directly with the California Energy Commission to create training materials, classes and webinars to explain the new construction solar requirements. Stay tuned! www.NACHI.org for future announcements on new construction solar requirements and more.
Posted By Coastal Property Inspections in Orange County
contact us at 949-401-8996