Newport Beach Home Inspectors
Chris Knappett with Coastal Property Inspections is one of the best Newport Beach Home Inspectors!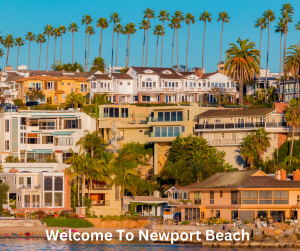 Welcome to Coastal Property Inspections, your trusted partner and Newport Beach Home Inspector! We are here to ensure a smooth and secure home purchase in beautiful Newport Beach. Purchasing a new home is a significant investment, and having a comprehensive home inspection conducted by qualified experts is crucial to avoid potential issues and make informed decisions. In this article, we will emphasize the importance of hiring a certified luxury home inspector who utilizes advanced technology to properly assess your property, protecting your investment and providing peace of mind.
The Significance of Hiring a Professional Home Inspector in Newport Beach:
Buying a home in Newport Beach can be an exciting prospect, but it also comes with its share of uncertainties. That's where a professional home inspector plays a pivotal role. We at Coastal Property Inspections have extensive experience and a keen eye for detail to ensure you have all the information necessary to make an informed decision.
A thorough inspection not only identifies existing issues but also helps uncover potential future problems, enabling you to negotiate a fair deal or seek necessary repairs before finalizing the purchase. Our inspector, Chris Knappett, is knowledgeable about the unique aspects of Newport Beach properties, including local construction practices and common issues specific to the area.
The Importance of Working with a Certified Luxury Home Inspector:
Newport Beach is renowned for its luxurious properties, and investing in one demands the highest level of attention to detail during the inspection process. Our certified luxury home inspectors possess the expertise to assess high-end features and amenities, ensuring that no aspect of your premium property goes unnoticed.
In addition to their wealth of experience, our inspectors hold relevant certifications, which means they adhere to strict industry standards and continually update their knowledge to keep up with the latest trends and technologies. This dedication ensures that you receive a top-tier inspection report, offering valuable insights into the property's condition.
Utilizing Advanced Technology for Unmatched Precision:
At Coastal Property Inspections, we take pride in our commitment to employing cutting-edge technology during our inspections. Our advanced tools allow us to delve deeper into a property, revealing hidden flaws that might otherwise remain undetected. From infrared cameras that detect moisture or insulation issues to aerial drones for roof inspections, our technology-enhanced inspections provide unparalleled accuracy and thoroughness.
This attention to detail not only sets us apart from other home inspectors but also offers you the confidence and assurance that your property has been thoroughly examined.
Why Choose Coastal Property Inspections:
Choosing Coastal Property Inspections as your preferred home inspector in Newport Beach means choosing excellence, expertise, and a dedication to your satisfaction. Our mission is to empower you with knowledge, enabling you to make confident decisions about your home purchase.
When you partner with us, you can expect:
Certified luxury home inspector with local expertise.
Advanced technology for comprehensive inspections.
Detailed inspection reports delivered promptly WITH 24 HOURS GUARANTEED
Excellent customer service and post-inspection support.
A commitment to your satisfaction and peace of mind.
Conclusion: Investing in a new home in Newport Beach is an exciting journey, but it requires careful consideration and thorough due diligence. Hiring a certified luxury home inspector from Coastal Property Inspections ensures that you have a comprehensive understanding of the property's condition and helps you make informed decisions.
Don't leave your dream home to chance; trust Coastal Property Inspections for your Newport Beach home inspection needs. Contact us today to schedule an inspection and embark on a worry-free home buying experience. Your investment and peace of mind are our top priorities!
CALL TODAY: 949-396-9595