We are the Realtor-Friendly Inspectors. 
Agents, why partner with Coastal Property Inspections?
We are a boutique Laguna Niguel home inspection company.  When you hire Chris Knappett, you get Chris.  We don't aim at becoming a large  inspection company with a slough of inspectors that when you hire them, you get a random inspector.    We are a professional home inspector and a wife, business partner/real estate broker.  We understand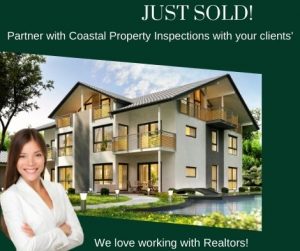 your business and want to be there when YOU and your clients need us.  It's quality over quantity.
We strive to use the latest in technology and provide the best customer service.  Good communication, thorough reporting, easy to understand/timely inspection reports.  Our goal is building relationships with a handful of agents.
We understand that building a relationship with YOU is very important.  Suzanne has over 20 years as a real estate broker and has witnessed and negotiated several hundred home inspections.  Our goal is to make you look good to your client for choosing us!   We offer great tools, detailed, easy to understand reports, the use of a drone and infrared thermal imaging at no additional cost with every inspection.  Your clients get more when you partner with Coastal Property Inspections.  Your Orange County Home Inspector and San Diego Home Inspector!  Other areas upon request.
CLIENT FRIENDLY
Chris is clear, calm,  honest and keeps findings in a manageable perspective for your clients and will explain in a non-alarming manner.

TECH-SAVVY
Not only does Coastal Property Inspections use modern home inspection tools like infrared thermal imaging and drones, we handle our agreements and  payments online to make the process easier and paperless for you and your clients.
CONVENIENT
Chris will make scheduling your client's inspection as convenient as possible for them even if that means a home inspection on a Saturday because your client works during the week.  He's got you!
COMMUNICATION
While Chris is out inspecting homes, Suzanne, his wife and business partner, is there to answer questions and schedule appointment on the phone, text or email.  It's our goal to be as responsive to you as possible as we understand that time is of the essence in your transaction.
VISUAL, CONCISE AND USER FRIENDLY REPORTS
We produce the best and most detail, thorough report in the industry. It's clean and easy-to-read on any mobile device or computer.  Chris painstakingly spends hours making sure each and every home inspection report is as accurate, detailed  and as easy to understand as possible for you and your clients using color coding and articulate descriptions of each issue.

Introducing the Coastal Property Inspections Repair Request Builder
The Repair Request Builder allows our real estate agent partners to quickly select which of our recommendations to include in a custom report to send to the listing agent. At Coastal Property Inspections, we truly value your partnership and want to do everything we can to service our mutual clients while making your job a little easier.
We are happy to give you a walk through on how to use the Coastal Property Inspections Repair Request Builder. Let us know if you would like to do a walk through with Chris, your Certified Home Inspector in Orange County, San Diego and the surrounding areas.
​In addition, if you would like to find out more about transaction management, Suzanne is also a Transaction Coordinator (TC), so please check us out at Mindful TC Services!
Please give us a call/text or email for more information! We want to support you to help you get more listings!
Suzanne:  949-401-8996