The infrared thermal imaging camera is a very important tool in many professions.  A few  of the top uses would be during a home inspection and first responders.  Thermal imaging detects coolness or heat and helps located issues not visible with the naked eye.  This tool should be in every home inspector's tool kit when inspecting homes as it gives a much more detailed and thorough view of the condition of the structural components.
Here are the Top 9 Uses for the Infrared Thermal Imaging Camera:
 Heating and Cooling Issues
The infrared thermal imaging camera looks for signs of air coming in or out as well as spotting pinpoint leaks.  It also will detect missing insulation within walls, attics, floors. Thermal imaging is an outstanding tool for detecting issues with radiant heated floors or ceilings.
2. Circuit Boxes and Wall Outlets
Thermal imaging is a great way to detect overheated circuit boxes or wall outlets which is a sign of potential problems that can arise.
3.  Plumbing Issues
Thermal imaging can provide a better way to detect the flow of water in the pipes as well as clogs within the pipes.
You can actually watch in real time as you work to loosen a clog while flowing hot water through the pipes.
4.  Roofing
Roofs are on the the most expensive structural components of a home and it's important to maintain repair before issues  arise. This isn't easy to do with the naked eye.  With an Infrared Thermal Imaging Camera, you can inspect your roof from ground level and look for areas where heat may be escaping or cools spots where water may be accumulating due to shingle damage.
5.   Home Use for Homeowners
If you love technology and a home in good repair, you'll love to have this tool!  You can find studs in your walls, located cool spots in your oven and stove and check the temp in your fridge (and yes, check the temp on that bottle of beer you'll be having later).  You can also look for possible leads around your toilet, showers and sinks.  Infrared thermal imaging is also a great tool for anyone with radiant floors or ceilings!  So many possibilities!
6.  Water Leaks
Water damage can wreak havoc on homes from roofs to foundations to flooring and within walls.   Water leaks can show up as both hot and cold and the infrared thermal imaging camera can pick up both. It's sometimes impossible to find water leaks behind walls or to spot water leaks on your own.  With thermal imaging you can easily spot inconsistencies with water flows, pinpoint puddles that you'd otherwise not see and spot leaks coming down walls.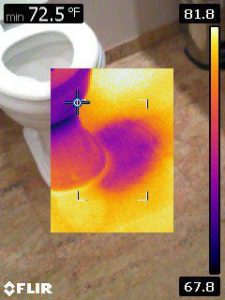 7.  Security
Thermal imaging was mostly developed by the military, so it makes sense that it's very useful for security purposes.
Take it with you camping, for example, to spot intruders at night like people, bear, raccoon, etc.
8.  First Responders
Infrared thermal imaging can help first responders located people trapped inside a structure and help them find their way around dense smoke.
9.  Auto Repair
As in HVAC, using the infrared thermal imaging camera can help mechanics spot overheating in  the electrical system.   It can locate the issue at the precise point of the problem in the engine.
These Top 9 Uses For Infrared Thermal Imaging Camera written by Suzanne Martin with Coastal Property Inspections in Orange County CA
www.CoastalPropertyInspect.com
Telephone:  949-401-8996